I went to the CrossFit Games SOCAL Regional for a few hours on Friday and Sunday this weekend.  Totally worth it in my opinion.
Not only do I inevitably run into tons of people that I don't get to see often because they go to other gyms or live in other cities.  But watching the best that we have to offer compete is invigorating, humbling, and motivating.
One thing I was thinking about looking at the "Crazy" WODs thrown the athletes way this weekend is that, when you watch videos or live performances of these incredible athletes or our own CFSD studs for that matter.  Remember that it is all about work capacity.  I guarantee you, you have friends and family that would look at just ONE workout you did the last 5 days and say there's no way I would do that, seems crazy, even dangerous.  Just like most of us would say about the Regional workouts, especially being back to back, day after day…  There's no difference there…on one hand your friends see what you do and think you're crazy…on the other you see what the competitors do and think they're crazy.
Keep that in mind next time you see a "Crazy" competition WOD.  Then don't be surprised when the top tier athletes make the WOD look easy.  It's work capacity.  If it looks insane to us it's simply because our work capacity doesn't meet the demands of that particular workout yet.  Just like anyone WITHOUT YOUR work capacity would see your workouts and say the same thing.
How do you build work capacity?  It's both easy and difficult, in fact it's probably difficult because it's so easy.  Three steps:
1) Be consistently patient -Don't rush, don't worry, don't overtrain
2) Be consistently perfect -Drill and perfect everything from push-ups to cleans, take every opportunity to improve technique
3) Be consistently persistent -Show up!  Give your best for today.
That's it.
TODAY'S WODS
Level I
15 mins pre-squat mobility (hips, t-spine, ankles…)
Front Squat 3×5
2 Rounds
Run 800m
20 Hip Extensions
30 Abmat Sit-Ups
Level II
a.) TGU: 4,4,4,4,4; Rest 30 Seconds
b.) Strict Pull-up 5×3; Rest 30 Seconds
For Time "Michael"
3 Rounds
800 Meter Run
50 Back Extensions
50 Situps
BW & KB
Mobility:
15min Trainer led mobility to lower back.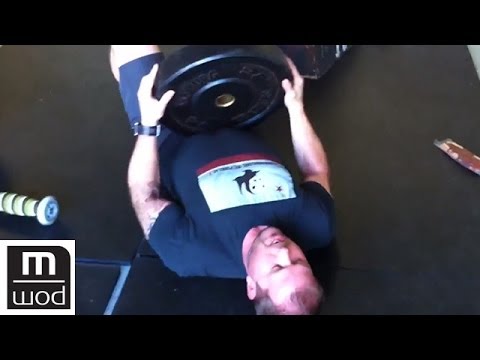 Core:
2min of side plank (1min each side)… If able to hold more than 30sec then extend non-support arm overhead to increase difficulty.
Wod:
4rds w/ 30 sec rest between rds of:
30 ground to overhead w/ wallball -squat clean into a press/cluster
-go immediately into
400m run (counter clockwise)
rest 1min
repeat
PAY ATTENTION TO YOUR COMPLETION TIME PER ROUND add total time deviation up.
PENALTY (to be completed after wod):
complete 1 vertical jump (one step and jump w/ reach) for every 5 secs of total time deviation i.e. 45 secs of total time deviation=9 vertical jumps.
Note: Use rings or high pullup bar as target for high jump. Alternate which side you step with (strongside/weakside) and reach for max height on finger touch.
SDPD
Skill: Rope Climbs
4×50 Meter Sled Pull AHAP
WOD
For Time:
Run 200 Meters
30 Step Walking Lunges
30 Ab-Mat Situps
Run 200 Meters
30 Goblet Squats
30 KTE
Run 200 Meters
* Kevin, bring your burpee shoes just in case!!
WOMEN
4×10 Shoot Through;Rest 30 Seconds Between
For Time: Jackie