We have MANY Programs at CrossFit San Diego. Finding where you should be takes time and input from YOU and from the Coaches at CFSD. This snapshot of our programs is simply to give you a glimpse of what they are about. Like most things in life these need to be experienced to fully comprehend what you are signing up for! All of this is explained during our Complimentary Intro Session. To schedule your Intro Session with us call (619) 356-8174 -OR- email: train@crossfitsandiego.com.
CROSSFIT SAN DIEGO PROGRAMS
Level I CFSD Course -This course is designed with the beginner in mind. What we have done at CrossFit San Diego is taken the training philosophy of Elite Athletes and made it available to the masses. To undertake that sort of tasking demands preparation. Not just physically but we need intangibles too, so when you start here you'll work to develop confidence, consistency and PERFECTION in movement, and Commitment.  The intensity will come after mastery of those prerequisites.  We will not chase intensity to the detriment of any precursors.
In the Level I Course we make the assumption that you know NOTHING. And we are teaching you how to develop your fitness from Square One. Even if you have some experience it is entirely possible that you learned some things wrong or picked up bad habits along the way. This is our opportunity to break everything down and build you up the right way. This will allow you to eventually push the limits of what you thought you were capable of.  But that will come in time, for now, in Level I, we'll focus on getting it right!
Level II CFSD Course -This course is the meat and potatoes of CFSD training.  In Level II we have established (via the Level I course -OR- the Intro Session) that you have mastery over the fundamental CrossFit movements and philosophy.  In the Level II course any movement or workout is fair game!  At Level II you are prepared and expected to take on new challenges with confidence, even if you've never seen it before, you'll have developed yourself to a level where new challenges are met with expectation and excitement instead of confusion, dread, or negative self-talk.
The Level II course requires maturity in nutritional discipline, and recovery techniques such as adequate sleep and hydration.  Life can and will get in the way, but the Level II athlete understands that and has the maturity to adjust on their own or the wisdom to talk with a CFSD Coach about what is happening and what measures need to be taken to ensure success.
TEAM CFSD (Level III) Course -This course is for competitors only.  This is OFF the beaten path, even though it is referred to at times as "Level III" it is not in the natural progression  of Courses at CFSD, unless you WANT to compete.  To be on TEAM CFSD requires much but it is highly rewarding (AND FUN), much like being a part of any Sports Team.
The team will compete in many events throughout the year with the ultimate goal being to qualify for and WIN the CrossFit Games as a Team and/or as individuals.  A large commitment is required to be on the team, meetings, events, competitions, etc.  However if you are selected for the Team you will also receive benefits for representing CFSD!  Attaining Level III status at CFSD is not easy and there is no compromise, the requirements for both your time and physical abilities are what they are, whether you do or do not meet the requirements will be up to you ultimately.  And you will not be considered for Team CFSD until you meet ALL requirements.
"GYMNASTY" (Adult Gymnastics Course) -Our gymnastics class is based on legendary gymnastics coach, Coach Sommer of Gymnastic Bodies.  This program IS NOT CrossFit, though we purposely slant skills learned to skills that will immediately help you develop as a CrossFitter.
This program is built on sound tried and true gymnastic progression and development.  Because of this the program is simple and we can accommodate ANY level of Gymnastics.  From the trainee who hasn't been upside down since they were 3 years old to the ex-college cheerleader.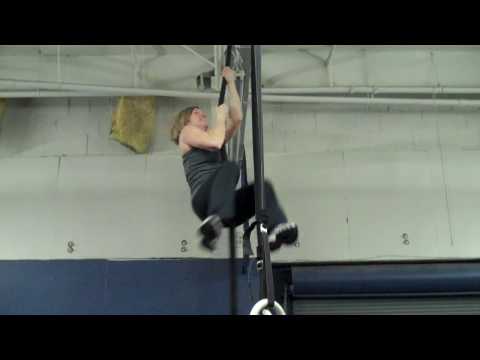 This training takes focus and moves at a deliberate pace.  It is NOT CrossFit but like CrossFit we will strive for perfection.  Not just so that your gymnastics looks good aesthetically.  But so that you get the full benefit of what gymnastics offers.  The body awareness, the total body tension, the breath control, and much more, least of which is the transformation of your body into a tight package.  Everyone wants to look like an Olympic Gymnast, you now have that opportunity as we teach you the fundamentals to train like one!